Who We Are
We have a friendly team comprising of IT Consultants, Service Experts and a knowledgeable Sales Team. Our team have a proven track record of delivering the highest quality IT solutions and support to a diverse range of business clients throughout the United Kingdom.
We are dedicated to keeping on top of your technology investment and keeping it running smoothly so you can focus on your business. You can relax knowing our partnership with your Business means we take your IT seriously, and we can provide the tools needed to keep your staff productive and drive your business forward. Change the way you think about IT and think of us as your outsourced IT department, or let us take care of day-to-day issues freeing up time for your in house IT team.Benefit from our modern and robust IT Support such as technical helpdesk, computer support and consulting. It's always been our goal to provide enterprise-level IT practices and solutions to the small business sector, with small business prices.
Our experience has allowed us to build and develop the infrastructure needed to keep our prices affordable and our clients up and running. We partner with many types of businesses, and strive to eliminate IT issues before they cause expensive downtime, so you can continue to drive your business forward.
TECHNICAL SUPPORT
IT SYSTEMS SUPPLY & INSTALLATION
Wireless Networks & INTERNET
DATA PROTECTION & BACKUPS
ANTIVIRUS & SECURITY
DATA CABLING
VoIP TELEPHONY
And more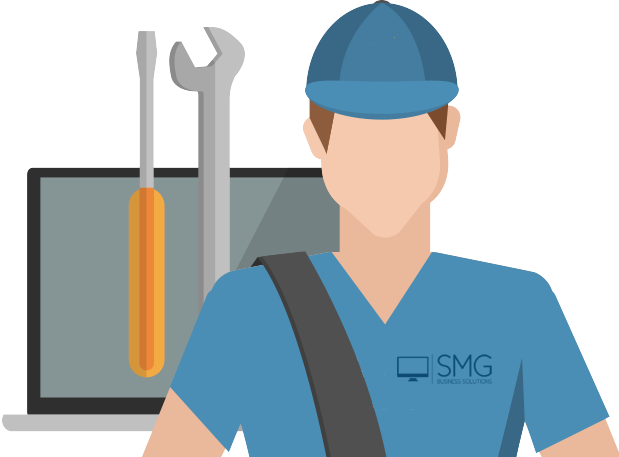 Why Choose Us
01.
We are loyal and willing to give over our time and energy. We always look for ways to go the extra mile for our customers.
02.
We work with the utmost flexibility to meet our customers' needs. We are never constrained by policy or procedure.
03.
Our team are highly experienced in the IT sector and have a proven track record of exceeding customer expectations.
Testimonials
"SMG are always quick to react whenever we have a problem and ensure that issues are resolved fully.  We've worked with them for many years and they're always helpful, friendly and happy to help with any of our IT needs."
"We wanted to write to thank you for all the hard work your team invested in our IT Support. Your team really do provide a professional and clear support. Your teams support behind your words are exceptional and I honestly would not look anywhere else for a team to provide my IT support."
"They're always quick to answer our requests and set-up systems exactly as we need them. The team helped me upgrade our ageing IT environment to Microsoft Office 365 and enabled our employees to gain access to information whilst on the road.  We had a problem with the performance of  older computers, but they took care of it right away with a programme of upgrades and replacements.."
Get in Touch
Got a question or request? Let us know and we'll reply right away.