What is Microsoft 365?
Microsoft 365 Business, formally Office 365, is the solution for the modern-day organisation. It provides your business with the availability to run a variation of services from one platform – the Cloud. Every application your business could need is supported by Microsoft 365, from emails, SharePoint (online file access) and Teams, as well as the already established office applications you are familiar with (Word, Excel, PowerPoint) to name a few!
Everything is securely backed up within the Cloud, a computing storage system, therefore ensuring business security and confidentiality is maintained.  The latest version of Microsoft 365 will also always be available, so you will never have applications slowing down and decreasing your productivity.
Overall, the move to working from home more apparent than ever, switching to Microsoft 365 includes Teams, a great communication platform perfect for workplace communication together with collaborative working!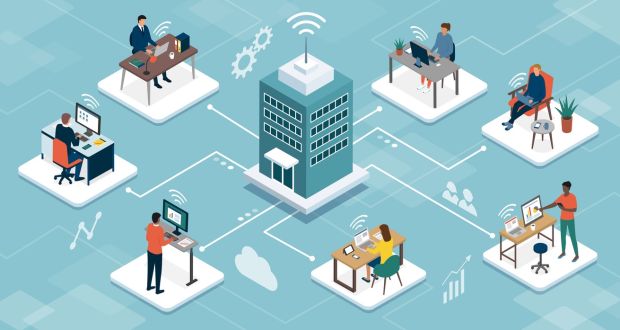 Acquiring Microsoft 365 can seem daunting, but as SMG Business Solutions are certified Microsoft Partners, our expert IT Technician's ensure this smooth transition is done without compromising your organisational needs.
How can it help your business?
Microsoft 365 ensures the most flexible and convenient way of operating. Most importantly, the built-in security allows all data to remain strictly confidential and guarantee your business is secure and privacy is controlled. As thousands of businesses already made the switch with SMG Business Solutions, the implementation and migration of Microsoft 365 is seamless, and productivity is not compromised.
Microsoft 365 Pricing
Frequently Asked Questions about Microsoft 365
Moving to Microsoft 365 allows your business to discover more ways of being productive due to the various applications available. As a result businesses efficiency is automatically increased due to the host of tools accessible altogether allowing for easy communication. With various options to suit your organizational we can plan accordingly based on budget and requirements.
With the ability to work from anywhere with internet connection and the vast, easy to use applications, therefore providing you with everything your business could need. Company data is always secured within the Cloud and allows users to create and share seamlessly.
Yes. All your files and data are stored securely within the Cloud database instead of a piece of hardware server. All company data is safe and easily accessible should any equipment break.
Let's talk about Microsoft 365
Got a question? Let us know and we'll be straight in contact with you.