Gain more with wireless access technology
Regular wireless routers used in our homes aren't designed to withstand the traffic or number of users a modern business requires. Nor do they have the security in place to keep your business activity safe.
Collaborate with your staff and gain the freedom to step away from the desk. This allows modern working styles that increase productivity. When everybody can be on the network with their laptops or tablets, you can get even more done.
We will advise you on the best route to take before implementing a wireless solution, discussing the different factors to consider with your needs in mind. We can advise you on a complete wireless system deployment suitable for your business. By having a uniform wireless strategy implemented throughout your entire business, your users can access the Internet, and your intranet, regardless of their location in your office.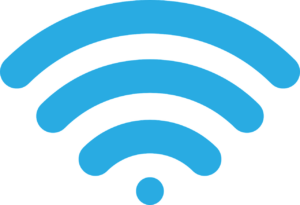 Workplace Size
Can all your team get wireless access within any location in your office?
Wireless access is something almost every member of staff needs to work and perform basic tasks. Office spaces are all shapes and sizes. Your business could be a series of small rooms or an entire building. Your staff will all want the same level of access to your network despite where their desk happens to be. So, you probably need more than one router, but that's when it gets complicated and more problems can occur. Multiple routers can conflict with one another if there are incorrectly placed.
Finding a solution to cover all areas of your office with optimum wireless access is a job for a professional. We know the ins and outs of how to set up wireless access across your entire business. Helping you avoid discrepancies with both wiring and router specifications. Our trusted technicians will ensure you get the most efficient wireless routing solution designed for you. Basing this around your requirements ensuring an improved wireless network that meets your business' individual needs.
Can your WiFi support all your users at once?
A router only replicates a certain amount of bandwidth, controlling the speed of your service. When more users are connected to a specific router, they consume more of the available bandwidth. The increased traffic could negatively impact your business' and staff productivity, and potentially even disrupt your connection completely causing chaos.
It goes without saying that you must understand the limitations that your routers have, it is crucial to consider how many users will be accessing each one at any given time. We appreciate it's not always easy to work these details out and there can be other factors to consider. SMG Business Solutions Ltd can help your business optimize router deployment so that your users have consistent access to your WiFi at all times, increasing both productivity and efficiency across the board.
How strict should your wireless login credentials be?
Last but not least, your business must ensure optimal security across all your wireless networks. Potential threats, like viruses and malware, are capable of infiltrating unsecured WiFi networks and spread their infections like wildfire. Putting all personal and business devices that connect to your WiFi in danger; not to mention your organization's data infrastructure.
Don't waste any more time
We deploy a wireless solution that is comprised of industry best practices to create the most suited WiFi security you need to protect your network. Your business can't rely on the default hardware-level firewall protection alone to keep your network safe from a potential threat to do it's damage. Our professional technicians will advise and setup your wireless networks securely, and we can advise your staff about best practices, too.
Wired connections still have their place in the modern office, we can help with those too but modern businesses need to come equipped with the secure mobility that an integrated wireless solution from SMG Business Solutions Ltd Ltd can provide.
To expand your connectivity and integrate increased productivity into your workplace, call us today at 020 7898 3500.
Frequently Asked Questions about Wireless Networks
Increased Mobility: Wireless networks allow mobile users to access real-time information so they can roam around your company's space without getting disconnected from the network. This increases teamwork and productivity company-wide that is not possible with traditional networks.
Installation Speed and Simplicity: Installing a wireless network system reduces cables, which are cumbersome to setup and can impose a safety risk, should employees trip on them. It can also be installed quickly and easily, when compared to a traditional network.
Wider Reach of the Network: The wireless network can be extended to places in your organization that are not accessible for wires and cables.
Reduced Cost of Ownership over Time: Wireless networking may carry a slightly higher initial investment, but the overall expenses over time are lower. It also may have a longer lifecycle than a traditionally connected network.
Increased efficiency – improved data communications lead to faster transfer of information within businesses and between partners and customers.
Access and availability – because wireless technology allows the user to communicate while on the move, you are rarely out of touch – you don't need extra cables or adaptors to access office networks.
Flexibility- office-based wireless workers can network without sitting at dedicated computers and can continue to do productive work while away from the office. This can lead to new styles of working, such as home working or direct access to corporate data while on customer sites.
Cost savings- wireless networks can be easier and cheaper to install, especially in listed buildings or where the landlord will not permit the installation of cables.
Your wireless router should include the latest wireless encryption standards, in addition to a built-in firewall, Media Access Control (MAC) address filtering capability, remote administration lockout feature, the ability to disable Service Set Identifier (SSID) broadcasting, access time limit control, parental control, restricted "guest" network zoning.
Let's talk about Wireless Solutions
Got a question? Let us know and we'll be straight in contact with you.